Watford Outreach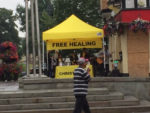 Another Amazing outreach at Watford today even though it was raining the Lord brought people into the Freehealing gazebo as soon as we set up a man wanted prayer for incurable kidney problem, another lady asked us to for pray for her husband who had bowel cancer, she also received prayer to help her cope with her husband.
An elderly woman named Rosemary asked us to pray for her bad heart and her breathing as she was breathless and tightening of the throat. A lady got healed of pain in neck and pain in knees. Vinnie prayed for a lady in a wheelchair her son who was pushing her also received pray.
Another man got healed of pain in his neck. People came to the table and asked for bibles and gospel books, parents were sending their children to us for free good news newspaper and gospel tracts. Joshua helped a man to invite Jesus into his life with a salvation prayer. We gave out over 70 gospel tracts\ flyers and Freehealing cards. The good Lord also connected us with another church who we hope will join us to further glorify our Holy king and savior.
What more can we say? Now to the King eternal, immortal, invisible, the only God, be honor and glory for ever and ever. Amen.