Out Reach on the Streets of London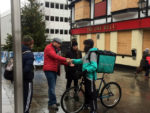 Jesus came to this small shopping area where our ministry team healed the sick, preached the good news and gave out Gospel tracts. We had many request for prayer cloths and bibles which we hand out for free to get people started in reading the bible, as Jesus said "Freely you have received, freely should be given"
Standing in Faith for Others.

If you would like our ministry team to come to your local area please get in touch using our contact page and let Jesus come to a high street near you. We firmly believe in showing the love of Jesus in a real way. Church is great, but we are the church and dwelling place of the Holy Spirit. We know a lot of people will not come to a church building, so we meet them where they are; bless them and pray for them on the streets.