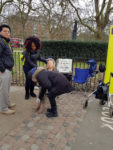 ​Hyde Park Outreach 18/02/2018

Amazing day at Healing Corner Hyde Park, a few of the events are recorded below. We got to minister to quite a few people and had some good conversations. We met a man who the Lord was using mightly in the middle east and it was a great encouragement to hear his testimony.

A young man who was healed after being ministered to wanted to go home and ask Christ to be His Lord and Saviour. He also heard a personal testimony which encouraged him further. We know that a testimony of Christ working in our own lives really speaks to people hearts, allowing the Holy Spirit to work more effectively.

A lady with pain in her back was pain-free instantly and asked us to pray (distant healing) for her friend. She left with a huge smile on her face and a Gospel tract.

Another young lady with her friends was walking through and asked us for healing for her back, however, she was not sure about the whole thing. We simply said to her, we just speak to the pain and tell it to go, and that there was nothing to worry about. So with that being said, we spoke to the pain in her back, the pain left and she was in utter shock, and said "no way".

She was really touched and this opened the door to a conversation about Christ, she was already thinking about going to church, so this encouraged her further. Also, we were able to give her a bible and share more.

An atheist who was healed last year from lower back pain, but still does not really believe in God, came over and asked the team to pray for a sick relative in another country. The Lord is working on him, he also testifies to other people in the park, about his healing and even goes so far as to direct people our way.

Many other good conversations and relationships continue to be had and built as we make this a regular outreach. Even the parks police know us favourably, which is the Lords doing. It's a real honour to stand there for the Lord while He draws people to us. Its a real ongoing encouragement to us all.

​Hyde Park Outreach 21/01/2018

A bitterly cold start to our outreach where we were firstly bombarded with snow and then when that finished doused with rain/sleet. Great! Who on earth would be in the park today under these conditions? But to God be the Glory, who as always was faithful in drawing 3-4 people our way.

Our team ministered to an unbeliever and gave her the full gospel of Jesus Christ. We know the Lord wanted to work in this ladies life.

A man called Daniel received prayer for pain in his hip and for smoking addictions, as the team ministered to him it was made clear he was also tormented by guilt and condemnation. After more prayer, the team took him for coffee and to minister to him further and his countenance started to change, so the Lord was at work in him

​Towards the end, a young man called Steven came for prayer for a fever and pain in his throat after prayer he said the pain had gone and he felt better as we told him how Jesus was healing him. He stated amazingly he was visiting from Taiwan and was attending a 2 week missionary course for healing.

We prayed for him again and gave him details of the JGLM DHT training to help him know more as his heart was to be a missionary and spread the gospel message. We know the Lord organised this divine appointment and has prepared great works for him to do. We hope he will keep in contact with us.

Finally, we also managed to pray for the parks police who was also encouraged and said we need to visit more often. As it was a nice change for the debating and squabbling that normally takes place. All Praise and Glory to God the Father through Our Lord Jesus Christ!