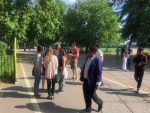 JGLM Hyde Park Outreach 3/6/18
​Thanks to all the saints that came to brave speaker's corner on Sunday (around 20 of us), it was a memorable day with lots of interactions and encounters. I couldn't keep up with all that was happening, but it was great to see everyone ministering to somebody which means there were a lot of seeds getting sown in people hearts. Many people got touched and healed in different ways by the Lord.
It was also amazing to see the youth involved in ministering and praying for people, how we need to encourage our younger brothers and sisters further.
The oneness in spirit from all of us being present was amazing and what a perfect day to practice righteousness. If you have any specific testimonies please share, otherwise here are a few images to capture the day. To the only wise God our Saviour, be glory and majesty, dominion and power, both now and ever. Amen. Jude 1.25